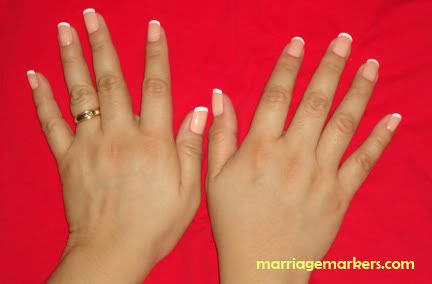 Last time I was able to buy a box of Wish French Nail Set from Watsons. I thought they would be a quick manicure when you need one, like if you have a special occasion to attend to and you don't have time to get a manicure.
A box with 24 pieces of fake nails, a tube of glue, a nail file, and a stick costs P79. Not bad. That would be worth one visit to the salon plus tip to the manicurist. And I could use it for two occasions.
The time came for me to need the fake nails. I need to go somewhere tomorrow and I wanted to get a mani-pedi but have no time for it. So I just cleaned my toenails and went on to my quick fix box of nails for help. I chose the appropriate sizes of nails.
Then I read the instructions on the box. It said there that I need to check the label on the glue for opening instructions. When I read the label on the glue, it says to read the instructions on the box. hmmm…Strange. Why are the labels pointing to each other? haha
Anyway, in the end, I could not open the tube and had to ask help from Dennis. When he was able to open it, I could not squirt it and he had to do it for me. Then I asked him, what about those ladies who use it and do not have a husband who can help? He said maybe they are just more determined in their resolve to apply pertaining to beauty. "If there's a will, there's a way," he said. I said, "Maybe you're my wheel." LOL
Do you have the patience to do this?
By the way, the Wish Nail Set comes in different designs. They even have nail art.