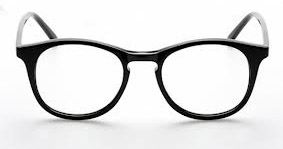 When I was released from the hospital last August after delivering our second daughter, I have observed that I was getting blurry vision. It was not there all the time, but I did have problems with focusing, such as when I am on the computer or when I shift my vision from one focal point to another.
My mother said that is because I just gave birth. She said that my grandmother (her mother-in-law) did not allow her to watch TV after she gave birth and she was complaining why I was already using my laptop. I reasoned that it was because of my work. But because I wasn't so strong yet, I really did not spend much time online, just a few minutes every now and then throughout the day.
But now, 3 1/2 months after giving birth, the blurriness is still there. And I have zeroed in on the problem, I am having problems focusing on things that are near to my eyes, such as food on the place (especially when I am separating fish bones from the flesh), reading and writing on raffle coupons, and cutting the fingernails of the little ones.
Before I gave birth, I was rather nearsighted. Before I got pregnant, I wore glasses to treat my astigmatism. During pregnancy, somehow my vision shifted and no longer needed glasses (though I did not have my eyes checked). But now, it seems that I may need to visit our optometrist-friend for a checkup.
Actually, he mentioned to me last year that people who are approaching their 40s may already need double vision prescription lenses. That is because the focusing may alter for the near, medium, and far range. I remembered what he said but I am kind of in denial because my vision just changed suddenly after giving birth.
Sigh…honestly, I don't want to wear glasses because I know that is going to be pretty tough with a little baby. Besides, my face gets too oily. And I don't like double vision lenses because it is going to take some time to get used to. My choice would be is to get progressive lenses, which is going to be very expensive and I don't have the budget for it.
I just have to visit our opto soon, maybe next week for a check up. I really have to do it already.