ur actual anniversary was yesterday but we waited for the weekend to book our hotel accommodations. So we will be staying here at O Hotel for 2 nights. Thanks to the arrangement of John Oliver Sy, we are now staying at their Matthew Suite.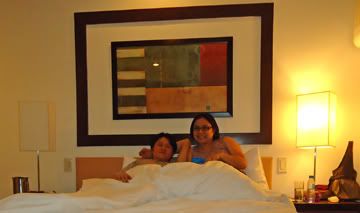 Dennis and I first checked in the hotel around 2:30pm. We thought of watching Pirates of the Caribbean: On Stranger Tides at SM Cinema but then we thought, well that would be extra expense as we will be having a dinner date tonight. So instead, we found some old romantic comedy flicks, chick flicks, as many of you would call it, and we spend the afternoon watching The Proposal starring Sandra Bullock and Ryan Reynolds. Then we went home and picked up Dindin so that the three of us can go have dinner.
Our dinner celebration was spent at Jacopo's along Lacson Street, Mandalagan, Bacolod City. We had angus kebabs, chicken tandoori, Greek salad, and pita bread with different sauces. We loved our Greek fare for dinner! It had been a long time since we had a dinner like this—just the three of us—enjoying international cuisine. And we had been desiring Jacopo's for a long time now. And our anniversary was just the perfect time for it. I will just detail our menu at my other blog, Mama Cooks.
After Jacopo's, we had some French Fries for Dindin at Jollibee and then we picked up our Spa Natura Gift Certificates. Thank you, Tito Monet and Jen. Spa Natura is by far the best spa in Bacolod today. That will be a date for next week. Ahhh…Thank you, Lord!
When we got to the hotel, I showed Dindin the elevator and how it works. She used to dislike riding elevators but now, with better understanding or perhaps with age, she has come to like it. Since we were the only ones in it, I was able to dramatically present to her the automatic closing and opening of the elevator doors with "3-2-1-ta-da!" Haha And she loved it. When we went to the room, I demonstrated to her that we only needed a card to open the door and then the card also switches on every electrical appliance inside and she was like, Wow!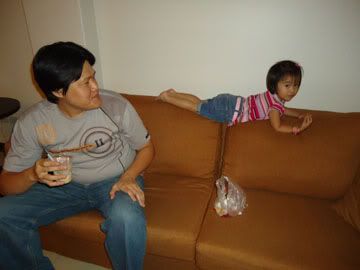 She went in, inspected the place from the living room, the bedroom, the kitchen, the bathroom, and vanity table. Hahaha She loved it! She looked at me and smiled then started running around the room and jumping up and down. How I wish I had a DLSR camera and nikon spotting scopes with me at this time to better capture her happy moments! Here she is, happily running around. 😀

After Dindin finisher her fries and Papa with his sundae, we settled again to watch another romantic comedy flick—When in Rome—starring Kristen Bell and Josh Duhamel. Oh this is gonna be a weekend of romantic comedy marathon! Thank goodness that my husband is allowing me to do this and is actually enjoying it! Haha Anyway, I really love this movie, aside from the fact that it's a feel-good movie, because the female character is the youngest art curator in the Guggenheim Museum in the Upper East Side of New York, and of course, another one of those places that I missed in New York. And after New York, the setting of the movie was moved to Rome in Italy, where the wedding scene was filmed. They said that the plot was probably inspired by the Trevi Fountain, but in the movie they called it Fontana de Amore or Fountain of Love. Well this is too much spoiler alert for the movie. Hehe

While we were watching While in Rome, Dindin kept playing, going up and down the bed, and doing this. I wonder where she learned this as Wowowee is no longer airing. haha

Then it was time for the bedtime reading routine of Papa and Dindin, then prayer time, then lights off.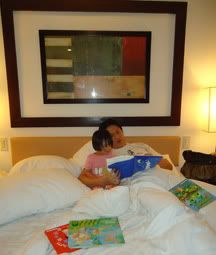 Tomorrow is Part 2 of our wonderful weekend.